1. What is the #1 song on the Billboard Pop Charts right now?
This may sound like an off the wall question, but shouldn't your wedding DJ really know? This is a great question to test a DJ's music knowledge and to see if they are current with POP music trends.
2. Do you take requests at the event? Yes! However, please read these notes regarding special events.
For corporate/private parties:
There can be a clash of ideals between what you want to hear, what's corporate policy, what the DJ knows the crowd will dance to, and what outlandish requests that some guests will request. We ensure that we will do our best to satisfy all guests at the party while maintaining the flow of what you want.
For weddings:
There can be a clash of ideals between what the Bride and Groom want to hear, what the DJ knows the crowd will dance to, and what outlandish requests that some guests will request. We ensure that we will do our best to satisfy all guests at the party while maintaining the flow of what the Bride and Groom ultimately want.
You can always provide a song list during our initial consultation and we can pass the list to the DJ ensuring we will do our best to have all song requests ready to go for your event.

3. Will the dance music be mixed?

Yes! We mix all dance music to ensure a flowing rhythm throughout the open dancing period. Let's face it, when you are getting a groove on, you don't want pauses between songs. You want a clean mix, as we do for all our songs.

4. Do you have dance lights?
Yes!. Lighting provides an atmosphere. With our dance lights, we aim them onto walls and ceilings to accentuate the party atmosphere rather than aim them at your eyes, blinding you.

5. Do you have a wireless mic and a back up corded mic?
Yes, we have wireless mics and they are reliable.. These mics are reliable and the most used in the business. The problem with wireless mics is if there are outside frequency interruptions caused by airports and boats, the mics will cut in and out. In this case, a corded mic will be provided.
6. Do we need to provide a table for your set up?
Although it is suggested, it is not mandatory. For weddings, we suggest it so that it matches the rest of your décor especially with matching linens. If necessary, we are capable of bringing a table with white or black linen.

7. How much deposit is required?
We take a 50% deposit up front to secure the date. The balance is due at the completion of the contract.

8. Do you have club experience?
All our DJs have club experience. This is important so that the DJ understands how to move crowds and build a vibe throught out the night.

9. How important is the DJ compared to my other vendors?

Time and time again, bridal magazine surveys reveal the following the wedding: 80% of guests respond that they most remember the entertainment above all other aspects of the wedding. And, not from coincidence, brides and grooms consistently report that they wish more priority had been given to their DJ in the budget and planning of the wedding. You can understand the importance of a DJ in any setting, private functions or corporate events. Nightclubs put heavy emphasis on the DJ for this reason.
FAQs: Most Commonly Asked Questions about our DJ Services and Disk Jockey in San Diego
1. How much do you charge?
There are a few factors involved with this question:  – What type of event is it? Wedding? Coporate event? Birthday?  Where is the event located?  How many people will be in attendance?   What equipment is necessary?
Generally Mobil DJ services start at $99 per hour.
2. Do you have experience?
This may be the most important question one can ask of a any DJ and not just wedding DJ. For your big event, you want a well experienced professional DJ to be in charge of the entertainment; the DJ can make or break your party/event. And the answer is yes, we have over 10 years of experience in the corporate/private party DJ business.
3. Should we be hiring a band or a DJ?
There are big differences between a band and DJ. Bands are usually faily expensive ($1,500+), play a fairly limited genre of music, have naturally loud volume, and usually don't provide a professional MC who will coordinate and run your event. Professional DJs like us will be able to play a wide variety of music for all age groups and demographics and also be your MC and coordinator.
4. Is there any difference between a Special Event DJ and a Club DJ?
Special and corporate events are much more challenging than a nightclub event with the wide variety of music required to satisfy all demographics and taste preferences. Also, a Special/Corporate Event DJ must be able to coordinate events and handle all announcements, as well as be able to work with other event professionals (catering directors, photographers, etc.).
5. Can we customize our music play list?
Of course you can. We make sure to get in all of your requests at your event. We do require that a completed song list be submitted a week in advance so that all music is prepared for the event.
6. What type of equipment do you use?
We use name brand equipment to guarantee quality sound and reliability. Some of the brands we use include: Mackie, JBL, Technics, Shure and American DJ.
7. Will you bring backup equipment to my event?
When a DJ brings high quality equipment to your event, back ups won't be necessary. If a DJ is selling you on bringing back ups, maybe you should question their equipment. In any case, back ups will be available for extreme cases of equipment failure.
8. How far in advance should I hire the DJ?
It depends on the type of event you are planning; for example a wedding, many people book their wedding vendors a year in advance. This provides a good lead time on guaranteeing your vendor's availability for the date you want, especially during peak wedding season. Off peak season, 6 months is a good lead time. But with any event, you would still want to book as far in advance as possible.
9. What happens if your DJ is a no show?
This scenario will not happen. Lines of communication with our DJs are wide open. In the case of a tragedy, which does happen, we will have a back up DJ available who will be prepped and up to speed on your event.
10. Will you MC and coordinate all of our events?
The DJ naturally is the MC of the event, unless otherwise specified. In the event that you do not have an event coordinator, our DJs jump into that position and keep the event flow as close to the time line as possible. If you do have a coordinator, our DJs work side by side with them.
Fashion Valley Mall held a special event featuring a runway fashion show to display the latest styles from stores inside the mall like Gap, Macy's and Banana Republic.
Pacific San Diego Magazine was a sponsor of the event and had a special VIP Lounge area after the runway show. Inside the lounge there were cocktails, style tips and fashion advice from Style Stop and the vinyl beats of DJ Misha with sound reinforcement from San Diego House Music.com
J Lab headphones were also onsite showing off their latest line of in-ear headphones, their rep Jordanna gave me a pair of the J2 Jbuds. Check them out on their website jlabaudio.com
These events are always a great time, and always free for readers of Pacific Magazine. Check out their website for contest and fun events in San diego!
Banana Republic hired me to DJ their corporate event and award party.  This was a large event held at the Bayfront Hilton with attendance of over 800 people.   The theme of the party was based on the show Mad Men and called "Mad About the 60's."
During dinner DJ Misha played chill downtempo and house beats while Jason Whitmore performed on live Saxophone.
If you are having a large event or corporate party with dancing and a DJ.  I would love to be the DJ and provide the music.  Please visit my san diego corporate party dj booking page with the details of your event.
View a few Photos and Video from DJ for Corporate Party in San Diego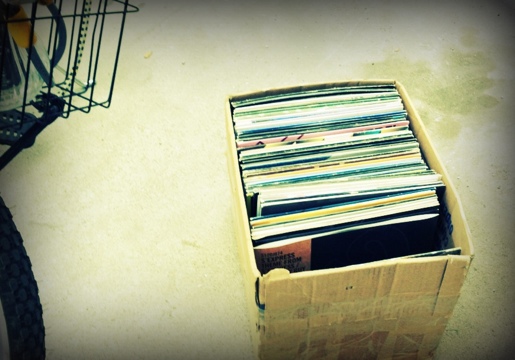 I was riding my bicycle on a relaxes Sunday evening and saw a dancerecords.com sticker laying on the ground next to a dumpster. I peeked inside and found a box of about 70 vinyl dance records! After closer examination these vinyls are in mint condition, no finger prints and very light dust and all of them came from dancerecords.com The music is from the 1999-2002 era and the genres range from a few classic jams, house and tribal, funky and banging house and trance.
There are a number of records in this box that are gems for me and will be rotated into my sets. When I first started DJ ing San Diego in 2001 these songs were hits in electronic dance music and were hard to find at record stores and online shops. But the best part is I have never owned so many brand new, never played records.
I am still listening to the collection but will have an all vinyl mix available soon for download.
My neighbor Cassidy was going to have a 70's themed birthday party at her house and I offered to bring the music and the lighting. It was a small gathering of friends, we grooved out to Pandora in our costumes while sipping cocktails.
Recently Pacific San Diego Magazine hosted at Cheers of Charity event at BoConcept in little italy. SanDiegoHouseMusic.com provided the music with DJ Tchort and DJ Misha. Check out a few photos below and see the full gallery here.
If your looking to hire a unique DJ in the San Diego area, please contact me, I would love to hear the details of your party or event.
– DJ Misha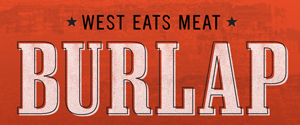 Last Friday I was very excited to the first San Diego DJ to play at the opening night of the Burlap Restaurant in Del Mar. The first night Burlap was open to the public proved to be one of the funnest DJ sets in recent memories. I played along with Jason Whitmore on Live Saxophone and musically everything seemed to fall together perfectly.
Burlap is the latest creation of top chef Brian Malarkey, who is also the owner of Searsucker in the Gaslamp. Burlap offers a similar vibe and feel as Searsucker with sophisticated design, its an elegant venue with a great staff. I have not tried the food, but hear its amazing.
I look forward to DJ ing more at Burlap Restaurant in San Diego. The next booking is schedule for Saturday, August 13th. Hope to see you there!
Photos, Pictures of Burlap
« Previous Page
—
Next Page »