"We are going to lock you in here," said the owner of the venue as he handed me the keys and his staff positioned the air conditioning unit that had just arrived. I had been asked to set up my turntables in a small hidden room located past the restrooms, through a few doors and down a long corridor. No one was going to find me here, not ABC and especially not the audience of 200 people for whom I would be DJ'ing for the next 4 hours.
Due to a miscommunication with the event planning no live music performance was going to be legally tolerable. Unless of course it was impossible to find where the live music was coming from.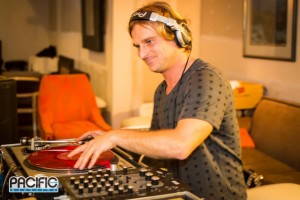 By the time the air conditioner showed up I was already an hour into the set and had made the decision that this was going to be a mega mix. I would try to play as many songs as possible to keep myself entertained. Usually I don't like to do this because I think that many DJ's mix songs too quickly and don't let their audience fully enjoy each song.
There are advantages to DJ'ing from a locked room away from the audience. There are no distractions, just my art and a lot of silly dancing. No requests, no audience feedback, no people coming up just to chat about whatever. This is somewhat similar to being a lonesome bedroom DJ but then totally different when you know there is a huge crowd listening to the mix.
Over the 4 hour set I had the occasional visitor to my secret DJ closet, the event and venue staff telling me that it was sounding great. The manager of the venue shared that a few guests had inquired where the music was coming from. Overall the event was a success and a one of a kind experience that I hope never happens again when I DJ in San Diego.
Thank you to Pacific San Diego Magazine and their awesome staff for always having me out to play their events!