"We are going to lock you in here," said the owner of the venue as he handed me the keys and his staff positioned the air conditioning unit that had just arrived. I had been asked to set up my turntables in a small hidden room located past the restrooms, through a few doors and down a long corridor. No one was going to find me here, not ABC and especially not the audience of 200 people for whom I would be DJ'ing for the next 4 hours.
Due to a miscommunication with the event planning no live music performance was going to be legally tolerable. Unless of course it was impossible to find where the live music was coming from.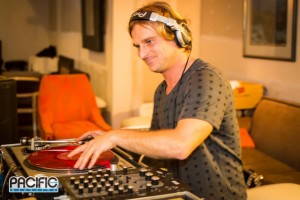 By the time the air conditioner showed up I was already an hour into the set and had made the decision that this was going to be a mega mix. I would try to play as many songs as possible to keep myself entertained. Usually I don't like to do this because I think that many DJ's mix songs too quickly and don't let their audience fully enjoy each song.
There are advantages to DJ'ing from a locked room away from the audience. There are no distractions, just my art and a lot of silly dancing. No requests, no audience feedback, no people coming up just to chat about whatever. This is somewhat similar to being a lonesome bedroom DJ but then totally different when you know there is a huge crowd listening to the mix.
Over the 4 hour set I had the occasional visitor to my secret DJ closet, the event and venue staff telling me that it was sounding great. The manager of the venue shared that a few guests had inquired where the music was coming from. Overall the event was a success and a one of a kind experience that I hope never happens again when I DJ in San Diego.
Thank you to Pacific San Diego Magazine and their awesome staff for always having me out to play their events!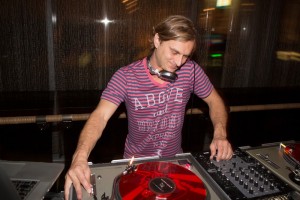 When I was contacted to DJ for a 40th Birthday party in San Diego I was excited because the clients told me they are big fans of Electronic Dance Music.   They even provided me some of their favorite "lounge" and "dance" tracks which I was happy to mix in throughout the evening.
The intimate party was held at the elegant dinning room of The Salt Box inside Hotel Palomar, formerly SE Hotel.
I provided the DJ mixed sound track for the evening, and towards the end of the night was asked to stay longer,  Dj'ing for over 5 hours as people mingled over cocktails and danced the night away.
Check out a few pictures courtesy of Jeff Corrigan of Turbo.fm
FAQs: Most Commonly Asked Questions about our DJ Services and Disk Jockey in San Diego
1. How much do you charge?
There are a few factors involved with this question:  – What type of event is it? Wedding? Coporate event? Birthday?  Where is the event located?  How many people will be in attendance?   What equipment is necessary?
Generally Mobil DJ services start at $99 per hour.
2. Do you have experience?
This may be the most important question one can ask of a any DJ and not just wedding DJ. For your big event, you want a well experienced professional DJ to be in charge of the entertainment; the DJ can make or break your party/event. And the answer is yes, we have over 10 years of experience in the corporate/private party DJ business.
3. Should we be hiring a band or a DJ?
There are big differences between a band and DJ. Bands are usually faily expensive ($1,500+), play a fairly limited genre of music, have naturally loud volume, and usually don't provide a professional MC who will coordinate and run your event. Professional DJs like us will be able to play a wide variety of music for all age groups and demographics and also be your MC and coordinator.
4. Is there any difference between a Special Event DJ and a Club DJ?
Special and corporate events are much more challenging than a nightclub event with the wide variety of music required to satisfy all demographics and taste preferences. Also, a Special/Corporate Event DJ must be able to coordinate events and handle all announcements, as well as be able to work with other event professionals (catering directors, photographers, etc.).
5. Can we customize our music play list?
Of course you can. We make sure to get in all of your requests at your event. We do require that a completed song list be submitted a week in advance so that all music is prepared for the event.
6. What type of equipment do you use?
We use name brand equipment to guarantee quality sound and reliability. Some of the brands we use include: Mackie, JBL, Technics, Shure and American DJ.
7. Will you bring backup equipment to my event?
When a DJ brings high quality equipment to your event, back ups won't be necessary. If a DJ is selling you on bringing back ups, maybe you should question their equipment. In any case, back ups will be available for extreme cases of equipment failure.
8. How far in advance should I hire the DJ?
It depends on the type of event you are planning; for example a wedding, many people book their wedding vendors a year in advance. This provides a good lead time on guaranteeing your vendor's availability for the date you want, especially during peak wedding season. Off peak season, 6 months is a good lead time. But with any event, you would still want to book as far in advance as possible.
9. What happens if your DJ is a no show?
This scenario will not happen. Lines of communication with our DJs are wide open. In the case of a tragedy, which does happen, we will have a back up DJ available who will be prepped and up to speed on your event.
10. Will you MC and coordinate all of our events?
The DJ naturally is the MC of the event, unless otherwise specified. In the event that you do not have an event coordinator, our DJs jump into that position and keep the event flow as close to the time line as possible. If you do have a coordinator, our DJs work side by side with them.
Banana Republic hired me to DJ their corporate event and award party.  This was a large event held at the Bayfront Hilton with attendance of over 800 people.   The theme of the party was based on the show Mad Men and called "Mad About the 60's."
During dinner DJ Misha played chill downtempo and house beats while Jason Whitmore performed on live Saxophone.
If you are having a large event or corporate party with dancing and a DJ.  I would love to be the DJ and provide the music.  Please visit my san diego corporate party dj booking page with the details of your event.
View a few Photos and Video from DJ for Corporate Party in San Diego
My neighbor Cassidy was going to have a 70's themed birthday party at her house and I offered to bring the music and the lighting. It was a small gathering of friends, we grooved out to Pandora in our costumes while sipping cocktails.
Recently Pacific San Diego Magazine hosted at Cheers of Charity event at BoConcept in little italy. SanDiegoHouseMusic.com provided the music with DJ Tchort and DJ Misha. Check out a few photos below and see the full gallery here.
If your looking to hire a unique DJ in the San Diego area, please contact me, I would love to hear the details of your party or event.
– DJ Misha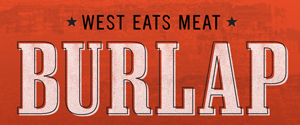 Last Friday I was very excited to the first San Diego DJ to play at the opening night of the Burlap Restaurant in Del Mar. The first night Burlap was open to the public proved to be one of the funnest DJ sets in recent memories. I played along with Jason Whitmore on Live Saxophone and musically everything seemed to fall together perfectly.
Burlap is the latest creation of top chef Brian Malarkey, who is also the owner of Searsucker in the Gaslamp. Burlap offers a similar vibe and feel as Searsucker with sophisticated design, its an elegant venue with a great staff. I have not tried the food, but hear its amazing.
I look forward to DJ ing more at Burlap Restaurant in San Diego. The next booking is schedule for Saturday, August 13th. Hope to see you there!
Photos, Pictures of Burlap
Next Page »