FAQs: Most Commonly Asked Questions about our DJ Services and Disk Jockey in San Diego
1. How much do you charge?
There are a few factors involved with this question:  – What type of event is it? Wedding? Coporate event? Birthday?  Where is the event located?  How many people will be in attendance?   What equipment is necessary?
Generally Mobil DJ services start at $99 per hour.
2. Do you have experience?
This may be the most important question one can ask of a any DJ and not just wedding DJ. For your big event, you want a well experienced professional DJ to be in charge of the entertainment; the DJ can make or break your party/event. And the answer is yes, we have over 10 years of experience in the corporate/private party DJ business.
3. Should we be hiring a band or a DJ?
There are big differences between a band and DJ. Bands are usually faily expensive ($1,500+), play a fairly limited genre of music, have naturally loud volume, and usually don't provide a professional MC who will coordinate and run your event. Professional DJs like us will be able to play a wide variety of music for all age groups and demographics and also be your MC and coordinator.
4. Is there any difference between a Special Event DJ and a Club DJ?
Special and corporate events are much more challenging than a nightclub event with the wide variety of music required to satisfy all demographics and taste preferences. Also, a Special/Corporate Event DJ must be able to coordinate events and handle all announcements, as well as be able to work with other event professionals (catering directors, photographers, etc.).
5. Can we customize our music play list?
Of course you can. We make sure to get in all of your requests at your event. We do require that a completed song list be submitted a week in advance so that all music is prepared for the event.
6. What type of equipment do you use?
We use name brand equipment to guarantee quality sound and reliability. Some of the brands we use include: Mackie, JBL, Technics, Shure and American DJ.
7. Will you bring backup equipment to my event?
When a DJ brings high quality equipment to your event, back ups won't be necessary. If a DJ is selling you on bringing back ups, maybe you should question their equipment. In any case, back ups will be available for extreme cases of equipment failure.
8. How far in advance should I hire the DJ?
It depends on the type of event you are planning; for example a wedding, many people book their wedding vendors a year in advance. This provides a good lead time on guaranteeing your vendor's availability for the date you want, especially during peak wedding season. Off peak season, 6 months is a good lead time. But with any event, you would still want to book as far in advance as possible.
9. What happens if your DJ is a no show?
This scenario will not happen. Lines of communication with our DJs are wide open. In the case of a tragedy, which does happen, we will have a back up DJ available who will be prepped and up to speed on your event.
10. Will you MC and coordinate all of our events?
The DJ naturally is the MC of the event, unless otherwise specified. In the event that you do not have an event coordinator, our DJs jump into that position and keep the event flow as close to the time line as possible. If you do have a coordinator, our DJs work side by side with them.
Banana Republic hired me to DJ their corporate event and award party.  This was a large event held at the Bayfront Hilton with attendance of over 800 people.   The theme of the party was based on the show Mad Men and called "Mad About the 60's."
During dinner DJ Misha played chill downtempo and house beats while Jason Whitmore performed on live Saxophone.
If you are having a large event or corporate party with dancing and a DJ.  I would love to be the DJ and provide the music.  Please visit my san diego corporate party dj booking page with the details of your event.
View a few Photos and Video from DJ for Corporate Party in San Diego
Starting with the SanDiegoHouseMusic EDM party at Analog Bar on Friday
then Saturday night at SPIN with three legends in house music, Mark Farina, Doc Martin and Halo
also be sure to check out upcoming dates at awesome venues like Searsucker and Burlap
If you are interested in attending these events, contact me, my guestlist is always open to you and your friends!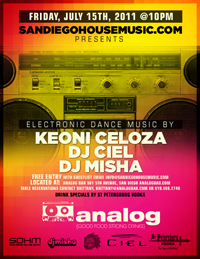 SanDiegoHouseMusic at Analog Bar
Friday, July 15th at 10pm
SanDiegoHouseMusic brings Electronic Dance Music back to Analog Bar this Friday, July 15th
music by
DJ Misha
DJ Ciel
Keoni Celoza
Get ready for another rocking party from SDHM!
RSVP for here for Free Guestlist

SanDiegoHouseMusic.com
AnalogBar.com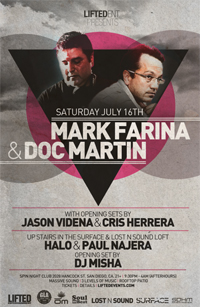 Doc Martin & Mark Farina
Saturday, July 16th at SPIN Nightclub
Catch 3 legends in house music along with strong local support all in one night
with opening sets by
Jason Videna & Chris Herrera
upstairs terrace with Halo & Paul Najera
opening set by DJ Misha
Massive Sound / 3 levels of Music / Rooftop Patio / Afterhours till 4am
Click here for discount guestlist entry before 10:30pm 
More dates coming up…
Friday, July 22nd @ Burlap with DJ Misha and Jason Whitmore on live sax // Starting 10pm
Saturday, July 30th @ Searsucker with DJ Misha // Starting at 10pm
Saturday, August 6th @ Eden in Hillcrest // Daytime set 12 – 4pm
Friday, August 19th @ Analog Bar // for the SanDiegoHouseMusic EDM Party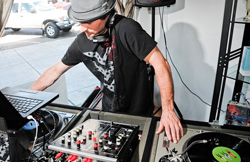 Summer is approaching fast…
It's a time for fun in the sun, celebrating good times and jamming to house music.
Thinking of having a party?
I've recently made upgrades to my mobile DJ equipment and now have the ability to take the dance party anywhere!
If you're planning a party or event, contact me, because I would love to provide the music.
On the horizon…
Searsucker – San Diego Gaslamp District
It's extraordinary to see that with great vision, dedicated hard work and a bit of luck, a great thing can happen.  Searsucker, is not only an amazing restaurant, but is also growing in popularity as a new downtown night spot.
I love that Searsucker embraces house music and allows it to create the perfect atmosphere and mood for an elegant nightlife experience.
Next: Friday, May 29th
DJ Misha with Jason Whitmore on Live Saxophone
JasonWhitmore.com
Searsucker.com
[pic caption]: Jason Whitmore playing live saxophone at Searsucker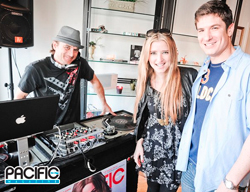 Pacific San Diego Magazine
Last month I played at a Pacific Magazine wine tasting event at the Envy Nightclub in the Ivy Hotel. The event was a huge success and the publishers, David and Simone Perfloff, have since asked me to be the resident DJ for Pacific Magazine's promotional events.
Stay tuned for more cool happenings around San Diego. Be sure to "Like" Pacific Magazine on Facebook and join the email newsletter on their website to learn about future events.

PacificSanDiego.com
PacificSD Facebook Page
[pic caption]: with David and Simone Perloff at a Pacific Magazine event
Analog Bar – San Diego Nightclub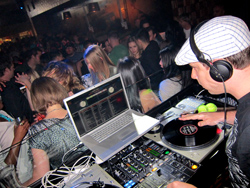 Last weekend I worked at Analog Bar with SanDieogHouseMusic.com and was really impressed with this venue.  It's a great place for a DJ, since special attention was given to both the DJ booth and the sound system.  It's also a fantastic place for getting down on the dance floor with a big room sound and sweet lighting.  I look forward to working more at Analog Bar in the upcoming months.
Next: Sunday, June 5th 3-6pm
DJ Misha -ALL VINYL SET for ANALOG SUNDAYS
AnalogBar.com
SanDiegoHouseMusic.com
[pic caption]: DJ MC rocking the house at SanDiegoHouseMusic.com Launch Party
Eden – Hillcrest Nightclub
If you want to blow off your work week, I'll be DJing at Eden this coming Friday, April 29, from 5-8 p.m.
Come down, enjoy some Happy Hour drinks and get your weekend started off right!
I'll be DJing at Eden regularly, so keep checking back for future date on the events page.
Contact San Diego DJ about your event or party and get a fast reply 🙂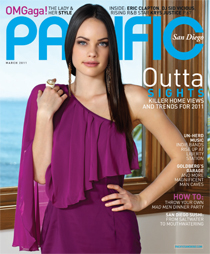 As a San Diego DJ, sometimes I get mentioned in local publications and recently was featured in the March 2011 Issue of Pacific San Diego Magazine.  (on page 16)
I will be DJ'ing an upcoming event hosted by Pacific Magazine at Andaz Hotel's new wine bar on Friday, March 25th from 5-8pm
Next to the honorable mention of my name, the editors of the mag also say:  "The dude still plays vinyl!"
🙂  It's true!  Even in the world we live in today, where DJ music is moving fast towards the digital realm, I still play some vinyl records.  My reasons? The aesthetics feel of handling vinyl and the quality of analog sound could never be matched or replaced by any software or digital file.  Plus… I just love it!
Click over to Pacific Magazine to read their latest issue at pacificsandiego.com
A few pictures performing at Searsucker during the lounge and dinner hour and after was San Diego local DJ Frankie M and Jason Whitmore performed on live saxophone. Thanks to everyone for coming out and the support.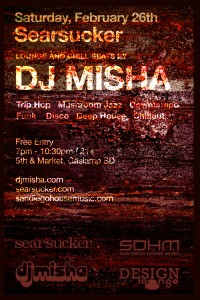 Saturday, February 26th Searsucker
Lounge & Chill beats by
DJ Misha
Evening beats by
Frankie M &
Jason Whitmore on live saxophone
House music, Trip Hop, Downtempo, Chillout, Deep House, Disco Funk and more awesome music all night long
FREE ENTRY. NO COVER
(Mention you are on DJ Misha Guestlist at the door)
21+ / 7pm – 2m / Gaslamp San Diego

djmisha.com
searsucker.com
jasonwhitmore.com
DJ Misha's mobil DJ set up is good for a crowd up to 300+ people and is very versatile and fast to set up for any event, birthday, wedding or corporate holiday party!
Tools of the DJ "Vinyl Records and Turntables"
Music Styles
House Music, Party Music, Electronic Dance Music, Deep House, Downtempo, Electronica, Lounge, NuDisco, Progressive, Trance, Techno and more…
Mobile San Diego DJ Equipment
Massive Sounds for 300+ People
Turntables, JBL Speakers & Subwoofer, Wireless Microphone, Dance Lighting
And the best part? I use turntables and vinyl ( *YES* even in todays digital world vinyl records still sound better! )
Check out pictures from past events like private birthday party, large wedding venue and nightclubs and see how well this set up looks and adjusts to every venue.
Contact San Diego DJ about your event or party and get a fast reply! 🙂

Thursday June 24th
Vin De Syrah with DJ Misha
Thank you to everyone that came out to Vin De Syrah last Thursday!
Check out a few photos below and these websites
Visit Vin De Syrah
Visit St Petersburg Vodka
A few photos from Vin De Syrah
Next Page »