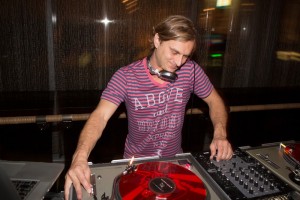 When I was contacted to DJ for a 40th Birthday party in San Diego I was excited because the clients told me they are big fans of Electronic Dance Music.   They even provided me some of their favorite "lounge" and "dance" tracks which I was happy to mix in throughout the evening.
The intimate party was held at the elegant dinning room of The Salt Box inside Hotel Palomar, formerly SE Hotel.
I provided the DJ mixed sound track for the evening, and towards the end of the night was asked to stay longer,  Dj'ing for over 5 hours as people mingled over cocktails and danced the night away.
Check out a few pictures courtesy of Jeff Corrigan of Turbo.fm
Fashion Valley Mall held a special event featuring a runway fashion show to display the latest styles from stores inside the mall like Gap, Macy's and Banana Republic.
Pacific San Diego Magazine was a sponsor of the event and had a special VIP Lounge area after the runway show. Inside the lounge there were cocktails, style tips and fashion advice from Style Stop and the vinyl beats of DJ Misha with sound reinforcement from San Diego House Music.com
J Lab headphones were also onsite showing off their latest line of in-ear headphones, their rep Jordanna gave me a pair of the J2 Jbuds. Check them out on their website jlabaudio.com
These events are always a great time, and always free for readers of Pacific Magazine. Check out their website for contest and fun events in San diego!
My neighbor Cassidy was going to have a 70's themed birthday party at her house and I offered to bring the music and the lighting. It was a small gathering of friends, we grooved out to Pandora in our costumes while sipping cocktails.
Recently Pacific San Diego Magazine hosted at Cheers of Charity event at BoConcept in little italy. SanDiegoHouseMusic.com provided the music with DJ Tchort and DJ Misha. Check out a few photos below and see the full gallery here.
If your looking to hire a unique DJ in the San Diego area, please contact me, I would love to hear the details of your party or event.
– DJ Misha
Starting with the SanDiegoHouseMusic EDM party at Analog Bar on Friday
then Saturday night at SPIN with three legends in house music, Mark Farina, Doc Martin and Halo
also be sure to check out upcoming dates at awesome venues like Searsucker and Burlap
If you are interested in attending these events, contact me, my guestlist is always open to you and your friends!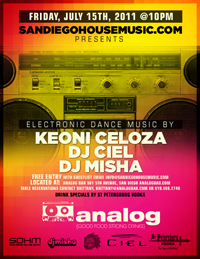 SanDiegoHouseMusic at Analog Bar
Friday, July 15th at 10pm
SanDiegoHouseMusic brings Electronic Dance Music back to Analog Bar this Friday, July 15th
music by
DJ Misha
DJ Ciel
Keoni Celoza
Get ready for another rocking party from SDHM!
RSVP for here for Free Guestlist

SanDiegoHouseMusic.com
AnalogBar.com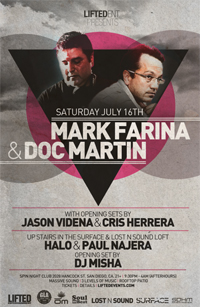 Doc Martin & Mark Farina
Saturday, July 16th at SPIN Nightclub
Catch 3 legends in house music along with strong local support all in one night
with opening sets by
Jason Videna & Chris Herrera
upstairs terrace with Halo & Paul Najera
opening set by DJ Misha
Massive Sound / 3 levels of Music / Rooftop Patio / Afterhours till 4am
Click here for discount guestlist entry before 10:30pm 
More dates coming up…
Friday, July 22nd @ Burlap with DJ Misha and Jason Whitmore on live sax // Starting 10pm
Saturday, July 30th @ Searsucker with DJ Misha // Starting at 10pm
Saturday, August 6th @ Eden in Hillcrest // Daytime set 12 – 4pm
Friday, August 19th @ Analog Bar // for the SanDiegoHouseMusic EDM Party