Starting with the SanDiegoHouseMusic EDM party at Analog Bar on Friday
then Saturday night at SPIN with three legends in house music, Mark Farina, Doc Martin and Halo
also be sure to check out upcoming dates at awesome venues like Searsucker and Burlap
If you are interested in attending these events, contact me, my guestlist is always open to you and your friends!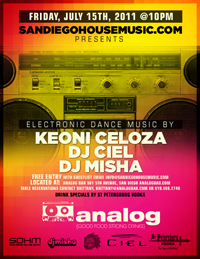 SanDiegoHouseMusic at Analog Bar
Friday, July 15th at 10pm
SanDiegoHouseMusic brings Electronic Dance Music back to Analog Bar this Friday, July 15th
music by
DJ Misha
DJ Ciel
Keoni Celoza
Get ready for another rocking party from SDHM!
RSVP for here for Free Guestlist

SanDiegoHouseMusic.com
AnalogBar.com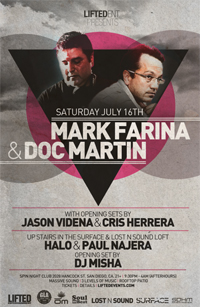 Doc Martin & Mark Farina
Saturday, July 16th at SPIN Nightclub
Catch 3 legends in house music along with strong local support all in one night
with opening sets by
Jason Videna & Chris Herrera
upstairs terrace with Halo & Paul Najera
opening set by DJ Misha
Massive Sound / 3 levels of Music / Rooftop Patio / Afterhours till 4am
Click here for discount guestlist entry before 10:30pm 
More dates coming up…
Friday, July 22nd @ Burlap with DJ Misha and Jason Whitmore on live sax // Starting 10pm
Saturday, July 30th @ Searsucker with DJ Misha // Starting at 10pm
Saturday, August 6th @ Eden in Hillcrest // Daytime set 12 – 4pm
Friday, August 19th @ Analog Bar // for the SanDiegoHouseMusic EDM Party
Last Sunday I played a DJ set at Analog Bar using only vinyl records.
It's been interesting to watch DJ technology change right in front of our eyes in the last 5 years. These days most DJ's are using a combination of software or digital equipment for their performances.
Playing all vinyl sets is just as much fun as I remember them to be few years ago!
Speaking of fun and Analog…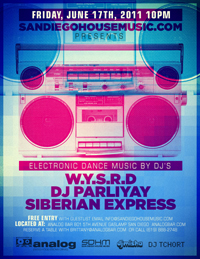 SanDiegoHouseMusic at Analog Bar
Friday, June 17th 10pm
I am very excited for the upcoming SanDiegoHouseMusic EDM event happening on Friday, June 17th at Analog Bar.
I will be DJ'ing as the artist duo "Siberian Express" with good friend DJ Tchort. The rest of the line up is rockin', including talented locals W.Y.S.R.D. and DJ Parliyay!!!
This is one event you definitely don't want to miss!

RSVP for here for Free Guestlist

SanDiegoHouseMusic.com
AnalogBar.com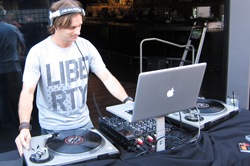 Eden – Happy Hour
Tonight, Thursday June 9th and tomorrow Friday, June 10th
I'll be DJ'ing at Eden for Happy Hour from 5-8 p.m.
Come down to have a few drinks and listen to good house music in Hillcrest!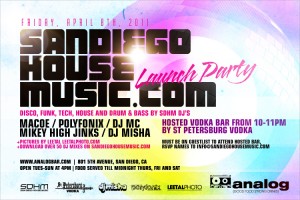 I'm very excited for the upcoming SanDiegoHouseMusic.com Launch Party, happening at Analog Bar on Friday, April 8th
A few of my favorite San Diego DJ's are playing at the party, including Macoe, Polyfonix, DJ MC and Mikey High Jinks. Expected to be dropping disco beats, techno treats and drum and bass biscuits all night long. Don't miss it.
This is a completley free event and there is even a hosted bar by St Petersburg Vodka
Visit San Diego House Music for more information and to get on the guestlist for this event. See you all there!
A few pictures performing at Searsucker during the lounge and dinner hour and after was San Diego local DJ Frankie M and Jason Whitmore performed on live saxophone. Thanks to everyone for coming out and the support.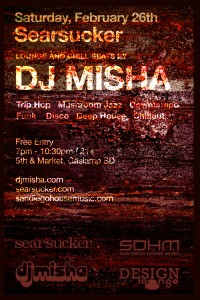 Saturday, February 26th Searsucker
Lounge & Chill beats by
DJ Misha
Evening beats by
Frankie M &
Jason Whitmore on live saxophone
House music, Trip Hop, Downtempo, Chillout, Deep House, Disco Funk and more awesome music all night long
FREE ENTRY. NO COVER
(Mention you are on DJ Misha Guestlist at the door)
21+ / 7pm – 2m / Gaslamp San Diego

djmisha.com
searsucker.com
jasonwhitmore.com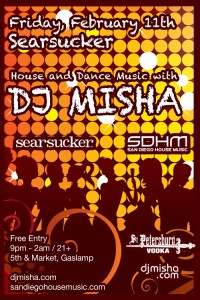 Searsucker upgraded their DJ booth!
Now the turntables and mixer are set inside of a nice wooden frame and positioned closer to the crowd. The DJ booth may still change locations inside the venue but already the vibe and crowd / DJ connection is more intimate. Here are a few shots from the evening, including Chris Clemo DJ'ing the opening set and close ups of the new DJ booth area.
Friday, February 11th
Searsucker
music by
DJ Misha
House music all night long.
Deep, Tech, Funky, Electro, Vocal and Progressive
FREE ENTRY. NO COVER
Just mention you are on DJ Misha's Guestlist at the door
21+ / 9pm – 2m / Gaslamp San Diego
visit Searsucker San Diego!
Event Details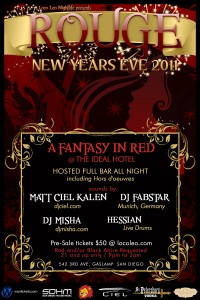 Have you been holding out on making plans for an epic New Years 2011 in San Diego? Here is a great, affordable option with awesome music!
Loco Leo Nightlife and SanDiegoHouseMusic.com Present
Rouge New Years 2011 @ Ideal Hotel
Sounds by:
DJ Misha
Matt Ciel Kalen
DJ Fabstar
Tickets are all inclusive: cover, drinks and light snacks for only $50
Vodka hosted by St Petersburg Vodka
Black or Red Attire Requested
9pm -1:30am 21+
Gaslamp San Diego
Hope to see you all there!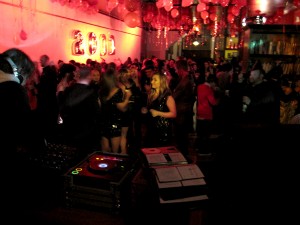 Picture from DJ Misha at Rouge NYE 2010
This is a photo from the NYE party!  What a great time, thanks to everyone who came out.
Be sure to download Free Mp3 house music DJ mixes on the music page.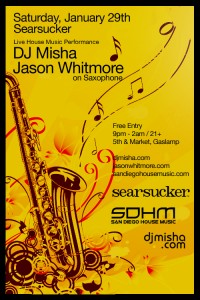 Live house music performance with talented saxophone player Jason Whitmore!
Saturday, January 29th @ Searsucker
Searsucker offers a great space for lounging and listening to the deep beats of house music played by DJ Misha with live saxophone accompaniment.
Check out JasonWhitmore.com
Entry is free for this event.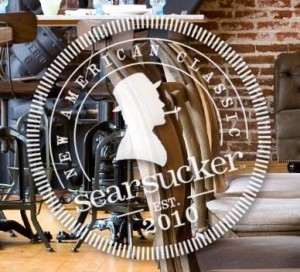 Last week I got a call to DJ at a new venue in the middle of the San Diego Gaslamp district called Seasucker. Yesterday I was excited to get a return call and to start playing regularly on Thursdays.
The venue is not a night club and calls for a diverse music mixdown. I will be played mid and downtempo music, with some funk, hip hop beats and a little of deep house.  Sexy, elegant and ecletic beats to set the vibe right.
Overall I am looking forward to beginning something new in the Gaslamp at a venue that is doing something DIFFERENT!
Hope to see you this Thursday at Searsucker!
BTW… their food is AMAZING!
Next Page »