Starting with the SanDiegoHouseMusic EDM party at Analog Bar on Friday
then Saturday night at SPIN with three legends in house music, Mark Farina, Doc Martin and Halo
also be sure to check out upcoming dates at awesome venues like Searsucker and Burlap
If you are interested in attending these events, contact me, my guestlist is always open to you and your friends!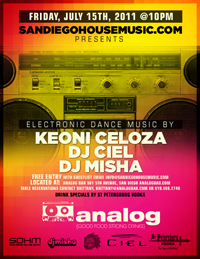 SanDiegoHouseMusic at Analog Bar
Friday, July 15th at 10pm
SanDiegoHouseMusic brings Electronic Dance Music back to Analog Bar this Friday, July 15th
music by
DJ Misha
DJ Ciel
Keoni Celoza
Get ready for another rocking party from SDHM!
RSVP for here for Free Guestlist

SanDiegoHouseMusic.com
AnalogBar.com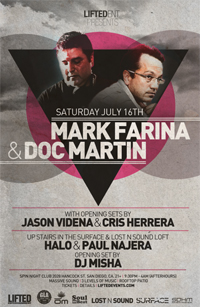 Doc Martin & Mark Farina
Saturday, July 16th at SPIN Nightclub
Catch 3 legends in house music along with strong local support all in one night
with opening sets by
Jason Videna & Chris Herrera
upstairs terrace with Halo & Paul Najera
opening set by DJ Misha
Massive Sound / 3 levels of Music / Rooftop Patio / Afterhours till 4am
Click here for discount guestlist entry before 10:30pm 
More dates coming up…
Friday, July 22nd @ Burlap with DJ Misha and Jason Whitmore on live sax // Starting 10pm
Saturday, July 30th @ Searsucker with DJ Misha // Starting at 10pm
Saturday, August 6th @ Eden in Hillcrest // Daytime set 12 – 4pm
Friday, August 19th @ Analog Bar // for the SanDiegoHouseMusic EDM Party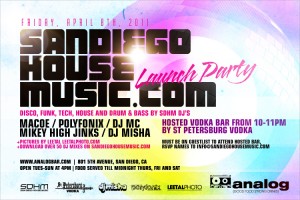 I'm very excited for the upcoming SanDiegoHouseMusic.com Launch Party, happening at Analog Bar on Friday, April 8th
A few of my favorite San Diego DJ's are playing at the party, including Macoe, Polyfonix, DJ MC and Mikey High Jinks. Expected to be dropping disco beats, techno treats and drum and bass biscuits all night long. Don't miss it.
This is a completley free event and there is even a hosted bar by St Petersburg Vodka
Visit San Diego House Music for more information and to get on the guestlist for this event. See you all there!
Event Details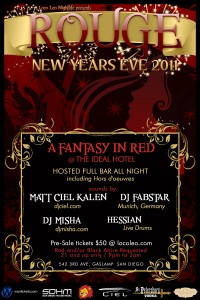 Have you been holding out on making plans for an epic New Years 2011 in San Diego? Here is a great, affordable option with awesome music!
Loco Leo Nightlife and SanDiegoHouseMusic.com Present
Rouge New Years 2011 @ Ideal Hotel
Sounds by:
DJ Misha
Matt Ciel Kalen
DJ Fabstar
Tickets are all inclusive: cover, drinks and light snacks for only $50
Vodka hosted by St Petersburg Vodka
Black or Red Attire Requested
9pm -1:30am 21+
Gaslamp San Diego
Hope to see you all there!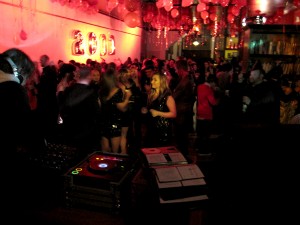 Picture from DJ Misha at Rouge NYE 2010
This is a photo from the NYE party!  What a great time, thanks to everyone who came out.
Be sure to download Free Mp3 house music DJ mixes on the music page.