A few pictures performing at Searsucker during the lounge and dinner hour and after was San Diego local DJ Frankie M and Jason Whitmore performed on live saxophone. Thanks to everyone for coming out and the support.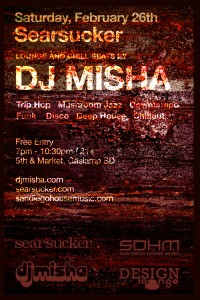 Saturday, February 26th Searsucker
Lounge & Chill beats by
DJ Misha
Evening beats by
Frankie M &
Jason Whitmore on live saxophone
House music, Trip Hop, Downtempo, Chillout, Deep House, Disco Funk and more awesome music all night long
FREE ENTRY. NO COVER
(Mention you are on DJ Misha Guestlist at the door)
21+ / 7pm – 2m / Gaslamp San Diego

djmisha.com
searsucker.com
jasonwhitmore.com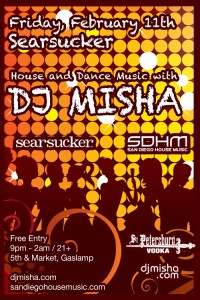 Searsucker upgraded their DJ booth!
Now the turntables and mixer are set inside of a nice wooden frame and positioned closer to the crowd. The DJ booth may still change locations inside the venue but already the vibe and crowd / DJ connection is more intimate. Here are a few shots from the evening, including Chris Clemo DJ'ing the opening set and close ups of the new DJ booth area.
Friday, February 11th
Searsucker
music by
DJ Misha
House music all night long.
Deep, Tech, Funky, Electro, Vocal and Progressive
FREE ENTRY. NO COVER
Just mention you are on DJ Misha's Guestlist at the door
21+ / 9pm – 2m / Gaslamp San Diego
visit Searsucker San Diego!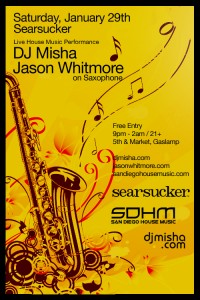 Live house music performance with talented saxophone player Jason Whitmore!
Saturday, January 29th @ Searsucker
Searsucker offers a great space for lounging and listening to the deep beats of house music played by DJ Misha with live saxophone accompaniment.
Check out JasonWhitmore.com
Entry is free for this event.