DJ Misha – The Top Party DJ + Saxophone Experience for Your Event
For crowds of any size and events of all kinds — from nights at the club to weddings, holiday parties, corporate events and so much more — there is only one DJ who can bring the right blend of energy with genre-bending dance music to create experiences that exist for one night only: DJ Misha.
DJ Misha is the top DJ with the experience and professionalism to bring the perfect energy to your night, regardless of the occasion. Playing a lively mix of dance, EDM, house music, lounge, top 40, 80's hits, 90's hits and 2000's party rockers, DJ Misha curates his collection of music specifically towards every event — allowing the crowd to enjoy themselves all night while the hosts relax and enjoy the show.
From Clubs to Corporate Events, DJ Misha Has the Skills to Do it All
Keeping the dance floor moving is the top priority for DJ Misha. A renowned performance that has rocked stages from the W Hotel's main stage and clubs throughout the San Diego area to the Uncorked Wine Festival, corporate events for Intel and Banana Republic, and private parties throughout the United States is at the core of what DJ Misha brings to the table. Combine that with a professional attitude, top-of-the-line equipment, and connections to vendors that strive to make your night exceptional and it's no question why DJ Misha is the best party DJ for bringing your event to a whole new level.
We hired DJ Misha along with live sax player for our company Holiday Party and were beyond impressed with the great duo! Misha was very dependable, responsive, and accommodating. They catered to the crowd, event, and made the party! Very very talented!

Emily Z. via Yelp
Live Sax and DJ Packages, Saxophone Player and DJ Experiences & More Live Music
What goes better with an exceptional DJ than a little live music? DJ Misha can pair his unforgettable deep house and electronic beats with exceptional saxophone players such as Jason Whitmore, Brian Pierini and several others to create a unique sonic experience that can only be heard at your celebration.
What does a DJ do?
There are two responsibilities at the core of DJ'ing. The first is to be a curator of excellent music that captivates specific audiences. The second is to program and mix music seamlessly to create the perfect DJ set or live performance that captures the crowd's energy and attention for the entire night. The ultimate goal is to keep people having fun while dancing and ensure that the party never gets boring.
Some key components of DJing include:
Selecting which records to play and in what order to create a "set" with an essence that is bigger than the sum of its parts.
Developing a musical ear and memory to understand the structure of each song, allowing the DJ to select tunes that are in key and complimentary so two tracks can be merged with a sense of rhythm.
Understanding the technical uses of all equipment involved, such as turntables, mixers and amplifiers, to bring out the power and danceability of a song through fine-tuning and accentuation of the record's dynamics.
Possessing a hunger for discovering, collecting and curating new and unique music — a borderline obsession over their music collection.
Generating a cohesive music atmosphere between the DJ and the audience. In most cases, this means making people dance the night away.
Distinguishing the nuances of power and feeling in music — being aware of the complex emotions that a song may inspire while understanding how style and tempo will impact the room.
A sense of emotional improvisation, key to any DJ's live performance. Music is a hotline to people's emotions — a DJ must use this force constructively to generate the peak experience.
Communicating with the audience by responding to the feelings of the room and using music to accentuate them.
What You Can Expect from a Live Saxophone Player and DJ Misha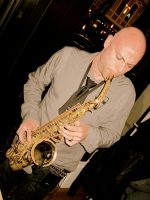 A performance from DJ Misha reaches the next level when a live saxophone player is added into the mix. While DJ Misha plays a continuous mix of dance music that flows seamlessly from one song to the next, adding in a saxophone player brings a live element to the performance that allows the crowd to fully embrace the vibe and get lost in the music.
Thrilling DJ and saxophone performances from DJ Misha feature skilled musicians playing along with songs the DJ spins, highlighting melodies and improvising solos to create a once-in-a-lifetime experience that leaves your event with nothing short of unforgettable excitement.
The structure of electronic dance music creates the perfect backdrop for talented musicians to let their creativity flow. Imagine the saxophone player peppering a song with a brand-new melody during the breakdown, bringing the note up high as the bass drops down low — and the crowd goes wild.
Creativity and improvisation are what make a live saxophone player and a DJ a limitless combination. 
We hired DJ Misha and his saxophone playing partner for our company Holiday Party in December and I have never gotten so much positive feedback from all who attended. They were the perfect combination of live music and DJ songs and kept the dance floor full the entire night! I would recommend them for any party or event.

Tori, KPMG Holiday Party
DJ services also include:
A curated collection of modern dance music — tracks with funky basslines, catchy hooks and endless vibes from across house, techno, EDM and modern pop genres, keeping your dance floor alive throughout the night

Top-of-the-line DJ equipment including up to 4 JBL speakers (1000 watt), 2 Technics turntables, Rane and Pioneer DJ mixers, Shure wireless microphones for making all announcements and more

Optional equipment can include dance lighting and fog machines

Optional live musicians such as saxophone players, guitar players or even a full-sized band can be added to the event to add another layer of excitement

Equipment setup and break down beginning 1.5 hours before the music starts included with each event

The professionalism of a DJ who has performed on some of the largest stages and private parties coast to coast for decades

A celebration that your guests won't be forgetting any time soon!
What is included within a mobile party DJ package:
DJ Misha is also happy to bring his dynamic performance to your event, no matter where it may be occurring. Mobile DJ + saxophone packages can vary depending on the equipment needed for the event, travel required to the event for the performers and vendors that may need to be collaborated with before the event. Out-of-town travel anywhere in the United States is never an issue either, making DJ Misha the perfect DJ near you — regardless of your location.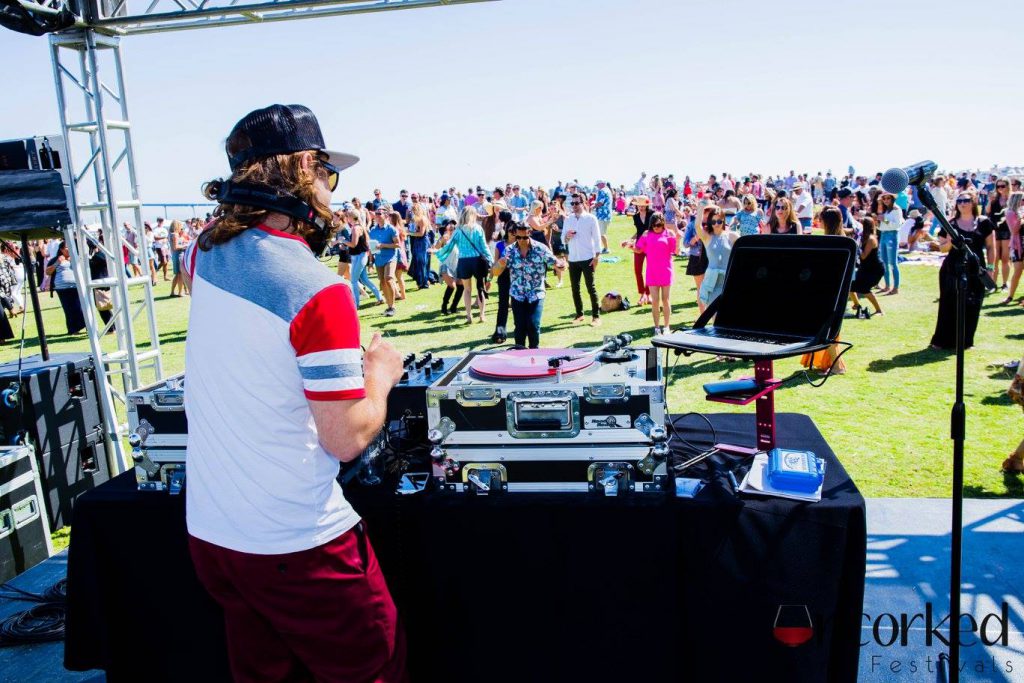 Misha was great to work with. We told him the vibe we were looking for and then we played an amazing 4 hour set without any direction needed from us. Had all the people dancing. 10/10

Quinn T. via Google
Electronic Music DJ + Saxophone FAQs
How much do DJs cost for a party?
DJ Misha offers several packages to make every occasion unforgettable, with performances beginning at $1,000. For full details on setting a budget for your event, visit the prices page.
There are several factors that come into play when hiring a DJ for your next event, including the type of event the DJ is being hired for, the length of the event, the amount of equipment required for the event and the number of attendees who will be at the event. Additionally, the seasonality of the event and any travel required for the performer will need to be factored into the rate. DJ Misha offers a variety of packages, with a standard four-hour DJ and Saxophone performance averaging $2,000 . To contact DJ Misha about performing at your next private party, corporate event, wedding, club, venue, birthday party, or celebration of any kind, visit the contact page.
How much does it cost to hire a saxophone player?
DJ Misha's unforgettable performances get even better when a live musician, such as a saxophone player is added to the mix.
DJ Misha works with live musicians, such as saxophone players Jason Whitmore and Brian Pierini to create unique musical experiences that break the boundaries of traditional DJ sets. DJ + saxophone and live musician package prices may vary by seasonality and availability. For more details, contact DJ Misha.
What is the role of the DJ at a party?
The primary role of the DJ is to keep the energy flowing and to keep people on the dance floor, as well as occasionally acting as MC to make announcements at weddings, corporate events and birthday parties.
The number one responsibility of any DJ is to ensure that there is never a lull in the event's energy by playing a mix of engaging music that sets the perfect mood — and DJ Misha has vibes in spades! An exceptional mix of house, electronic dance music, electronica, techno, top hits and throwback classics is sure to ignite a spark in any crowd. Additionally, DJ Misha includes a full audio setup complete with microphones to engage the crowd and make any announcements throughout the night.
His music got everyone on the dance floor, and we were there for hours! It was so much fun!

Jennifer. via Google
What's included in a DJ package?
DJ Misha offers a variety of DJ packages for events of all kinds and budgets of all sizes, with top-of-the-line equipment, endless amounts of music and much more included.
DJ Misha also offers tailored packages for specific events, including weddings, corporate events, birthdays and private parties. Find your price and book your event by contacting DJ Misha.
What does the DJ service include?
DJ Misha's services includes everything needed for a night full of music throughout the duration of your event, such as the sound system, dj mixing equipment, and of course, DJ Misha mixing a blend of outstanding music by spinning records in real time.
What kind of music will you play at our event?
DJ Misha plays a variety of modern dance music, including many genres of electronic dance music, such as house music, deep house, techno, lounge, chill out and more. This allows you and your guests to hear some of your favorite crowd pleasers and popular hits, as well as new music you may have never heard before. The goal is to match the sound to the vibe of the event while keeping the dance floor fully engaged.
Can we make a request playlist of songs we'd like to hear?
Each party is unique, and in order to accommodate, we begin with a discussion about your personal taste in music, the vision you have for your event and some general details about your guests. From there DJ Misha will craft a DJ set and performance specifically for your event — after all, that is what a good DJ does best. If there are a few songs you're keen to hear during your party, just let Misha know and he'll work them into your performance.
Does the DJ take requests?
As a lover of all kinds of music, DJ Misha wants to know what kind of music resonates with you and makes your crowd excited. Included in any booking is the opportunity to discuss the vision you have for your event and your favorite genres, artists and even songs so Misha can create the perfect set that perfectly matches the night's vibe.
However, when in the middle of a live performance and "in the mix" it can be quite distracting for the DJ to talk to and take specific song requests from guests. For this reason DJ Misha encourages early communication about your musical vision – that way you and your guests can relax and fully enjoy the show.
How do I hire a DJ and saxophone player near me?
Hiring DJ Misha as your next DJ is as simple as getting in contact!
If you have your date set, know the number of people who will be in attendance and are ready to start picking out the perfect music to set the mood at your event, it's time for you to book your performance with DJ Misha. To find DJ Misha's availability and get your rate, visit the contact page.