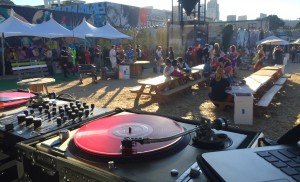 Last weekend I got the opportunity to DJ in San Diego at a daytime event called hoppy Halloween at SILO quarter in downtown.
The other San Diego DJ booked to play could not make it, so that meant my set time was extended by an hour and I would need to bring my own mobile DJ equipment.
No problem!
I set up on the stage, covered from the sun, and plugged into a larger sound system.  Unfortunately the sun took a turn and started melting my Serato DJ control vinyl records like hot cakes.  Regardless of this unfortunate circumstance my two hour set went off without a glitch.  I slowly built the afternoon vibe with deep funky house, disco trippy sounds and groovy bass lines. It was awesome to hear my beats on a larger sound system.  The MC gave me shout outs while making announcements and even pointed out that I was playing turntables and vinyl records.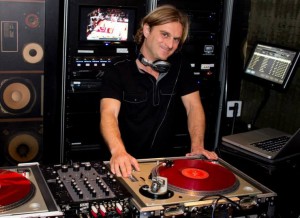 I recently played the grand opening of Draft Republic hosted by Pacific Magazine. The new venue located in the UTC area is a new addition to the Cohn Restaurant Group.

Pacific Magazine hosted the grand opening with San Diego DJ Misha behind the turntables. Skip's Garage acoustic band played american rock covers.

Skip's Garage is also known as Rock Out Karaoke, San Diego's only Karaoke band. You can sing on stage like a rock star at one of their residencies in San Diego.

A ping pong and fuse ball competition hosted by Pacific Magazine was a hit. The lucky winners took home $250.

Pacific Magazine event staff were happy with the evening and followed up with
"You guys were awesome and the vibe was perfect! Thank you both for a great show…"


If you need a San Diego DJ to play a party, birthday, wedding or any other event, please contact me. I would love to provide the music.

Additional shoutouts and event sponsors:
Cohn Restaurant Group, The Animal Pad, DJ Misha, Rock Out Karaoke, New Belgium Brewing, Kearny Mesa FIAT and Sailor Jerry

"We are going to lock you in here," said the owner of the venue as he handed me the keys and his staff positioned the air conditioning unit that had just arrived. I had been asked to set up my turntables in a small hidden room located past the restrooms, through a few doors and down a long corridor. No one was going to find me here, not ABC and especially not the audience of 200 people for whom I would be DJ'ing for the next 4 hours.

Due to a miscommunication with the event planning no live music performance was going to be legally tolerable. Unless of course it was impossible to find where the live music was coming from.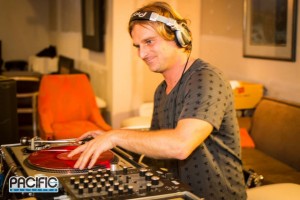 By the time the air conditioner showed up I was already an hour into the set and had made the decision that this was going to be a mega mix. I would try to play as many songs as possible to keep myself entertained. Usually I don't like to do this because I think that many DJ's mix songs too quickly and don't let their audience fully enjoy each song.
There are advantages to DJ'ing from a locked room away from the audience. There are no distractions, just my art and a lot of silly dancing. No requests, no audience feedback, no people coming up just to chat about whatever. This is somewhat similar to being a lonesome bedroom DJ but then totally different when you know there is a huge crowd listening to the mix.
Over the 4 hour set I had the occasional visitor to my secret DJ closet, the event and venue staff telling me that it was sounding great. The manager of the venue shared that a few guests had inquired where the music was coming from. Overall the event was a success and a one of a kind experience that I hope never happens again when I DJ in San Diego.
Thank you to Pacific San Diego Magazine and their awesome staff for always having me out to play their events!
I always have a great time when I DJ in San Diego for Pacific Magazine.  The most recent gig was to celebrate the grand opening of OB Warehouse in Ocean Beach, a new venue by the Cohn Restaurant Group.
There were excellent drinks by Crisps Cider and Hendricks Gin, delicious eats by Chef  Elias Gonzales and of course vinyl dance beats by DJ Misha.
Check out a few photos from the event:
Need to hire a club or EDM DJ in San Diego for your event or party, please contact me as I would love to provide the music!
Fashion Valley Mall held a special event featuring a runway fashion show to display the latest styles from stores inside the mall like Gap, Macy's and Banana Republic.
Pacific San Diego Magazine was a sponsor of the event and had a special VIP Lounge area after the runway show. Inside the lounge there were cocktails, style tips and fashion advice from Style Stop and the vinyl beats of DJ Misha with sound reinforcement from San Diego House Music.com
J Lab headphones were also onsite showing off their latest line of in-ear headphones, their rep Jordanna gave me a pair of the J2 Jbuds. Check them out on their website jlabaudio.com
These events are always a great time, and always free for readers of Pacific Magazine. Check out their website for contest and fun events in San diego!
Banana Republic hired me to DJ their corporate event and award party.  This was a large event held at the Bayfront Hilton with attendance of over 800 people.   The theme of the party was based on the show Mad Men and called "Mad About the 60's."
During dinner DJ Misha played chill downtempo and house beats while Jason Whitmore performed on live Saxophone.
If you are having a large event or corporate party with dancing and a DJ.  I would love to be the DJ and provide the music.  Please visit my san diego corporate party dj booking page with the details of your event.
View a few Photos and Video from DJ for Corporate Party in San Diego