It was fun to be invited back to DJ the 2017 Uncorked Wine Festival in San Diego. With 3500 people in attendance and almost 100 different varieties of wine to taste we had a recipe for a great event.
John Roy Sound Contractor provided the stage and the sound equipment including speakers, amps, monitors and microphones. Their on site sound tech was professional and kept the volume consistent throughout the event. They also provide services for turntable and speaker repair, and large sound rentals and production.
The doors to the festival opened at noon and people began to flow in to the large park and line up for wine tasting. It was only a matter of time before the crowd started dancing started in front of the stage, and eventually on the stage too.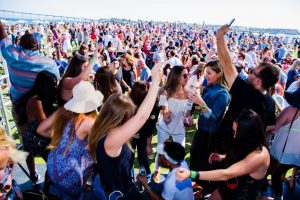 As the event DJ, I played a 4 hour set and was the only music entertainment for the event. I started my set with favorite hits from all generations, mixed seamless from track to track. Then it was time for dance hits and party rockers, it wasn't long until the crowd was dancing and jumping onto the stage. My turntable needles were bouncing up and down so wildly that it was very difficult to mix in the next song. Very fun crowd year after year!
To check out my set track list and see what was played at Uncorked head over to Serato DJ Playlists and take a look.
Below are a few photos from Uncorked Wine Fest 2017
Do you need a DJ for a party or event in San Diego?
Contact Misha, DJ in San Diego about your event on the contact page. Please be sure to provide a few details about occasion, time, date, location and approximate people in attendance.
I was excited to be contacted from my San Diego DJ website by Michelle who booked me to DJ at the Uncorked Wine Festival in San Diego.
The event took place on a sunny and beautiful Saturday afternoon at Embarcadero North Park with more than 3000 people in attendance. There were over 80 wines and tasting stations set up throughout the park with 100 wine varieties to taste.
The stage, which eventually the crowed wanted on dance on, was set up in front of a large grassy area. San Diego's best event DJ  😀 started out the event with playing reggae and chill vibes and slowly built up to dance music as the wine happy crowd filled in and began dancing.
San Diego Photographer Bradley Schweit was on site to capture all the fun in the sun. Check out a few pictures below:
If you need an affordable event DJ in San Diego for your party, wedding, or corporate event please contact San Diego DJ Misha. I would love to provide the music!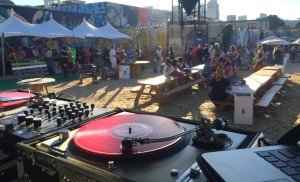 Last weekend I got the opportunity to DJ in San Diego at a daytime event called hoppy Halloween at SILO quarter in downtown.
The other San Diego DJ booked to play could not make it, so that meant my set time was extended by an hour and I would need to bring my own mobile DJ equipment.
No problem!
I set up on the stage, covered from the sun, and plugged into a larger sound system.  Unfortunately the sun took a turn and started melting my Serato DJ control vinyl records like hot cakes.  Regardless of this unfortunate circumstance my two hour set went off without a glitch.  I slowly built the afternoon vibe with deep funky house, disco trippy sounds and groovy bass lines. It was awesome to hear my beats on a larger sound system.  The MC gave me shout outs while making announcements and even pointed out that I was playing turntables and vinyl records.
"We are going to lock you in here," said the owner of the venue as he handed me the keys and his staff positioned the air conditioning unit that had just arrived. I had been asked to set up my turntables in a small hidden room located past the restrooms, through a few doors and down a long corridor. No one was going to find me here, not ABC and especially not the audience of 200 people for whom I would be DJ'ing for the next 4 hours.
Due to a miscommunication with the event planning no live music performance was going to be legally tolerable. Unless of course it was impossible to find where the live music was coming from.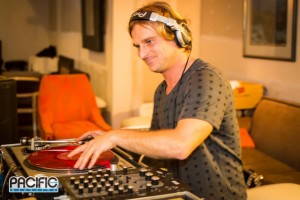 By the time the air conditioner showed up I was already an hour into the set and had made the decision that this was going to be a mega mix. I would try to play as many songs as possible to keep myself entertained. Usually I don't like to do this because I think that many DJ's mix songs too quickly and don't let their audience fully enjoy each song.
There are advantages to DJ'ing from a locked room away from the audience. There are no distractions, just my art and a lot of silly dancing. No requests, no audience feedback, no people coming up just to chat about whatever. This is somewhat similar to being a lonesome bedroom DJ but then totally different when you know there is a huge crowd listening to the mix.
Over the 4 hour set I had the occasional visitor to my secret DJ closet, the event and venue staff telling me that it was sounding great. The manager of the venue shared that a few guests had inquired where the music was coming from. Overall the event was a success and a one of a kind experience that I hope never happens again when I DJ in San Diego.
Thank you to Pacific San Diego Magazine and their awesome staff for always having me out to play their events!
I was recently hired in San Diego to DJ at a private Birthday party. This client was celebrating with about 100 guests and wanted to have dance, house music and EDM at the party for their guests to enjoy.
I was DJ'ing dance music for over 4 hours, starting slow and building the vibe as the night progressed. The music styles played to get the crowd going were downtempo, funk, nu-disco, deep house, techno, tech house and trance.
Take a look below at a few photographs from this party, taken by the talented photographer Jeff Corrigan of Turbo.fm
If you are looking for a party DJ in San Diego to play club hits and electronic dance music, contact DJ Misha about your event.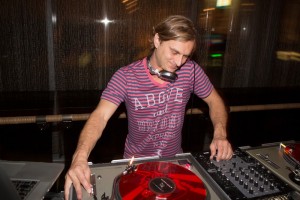 When I was contacted to DJ for a 40th Birthday party in San Diego I was excited because the clients told me they are big fans of Electronic Dance Music.   They even provided me some of their favorite "lounge" and "dance" tracks which I was happy to mix in throughout the evening.
The intimate party was held at the elegant dinning room of The Salt Box inside Hotel Palomar, formerly SE Hotel.
I provided the DJ mixed sound track for the evening, and towards the end of the night was asked to stay longer,  Dj'ing for over 5 hours as people mingled over cocktails and danced the night away.
Check out a few pictures courtesy of Jeff Corrigan of Turbo.fm
Next Page »