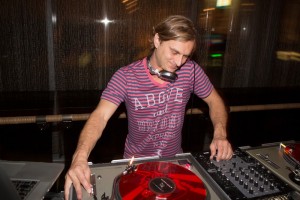 When I was contacted to DJ for a 40th Birthday party in San Diego I was excited because the clients told me they are big fans of Electronic Dance Music.   They even provided me some of their favorite "lounge" and "dance" tracks which I was happy to mix in throughout the evening.
The intimate party was held at the elegant dinning room of The Salt Box inside Hotel Palomar, formerly SE Hotel.
I provided the DJ mixed sound track for the evening, and towards the end of the night was asked to stay longer,  Dj'ing for over 5 hours as people mingled over cocktails and danced the night away.
Check out a few pictures courtesy of Jeff Corrigan of Turbo.fm
Fashion Valley Mall held a special event featuring a runway fashion show to display the latest styles from stores inside the mall like Gap, Macy's and Banana Republic.
Pacific San Diego Magazine was a sponsor of the event and had a special VIP Lounge area after the runway show. Inside the lounge there were cocktails, style tips and fashion advice from Style Stop and the vinyl beats of DJ Misha with sound reinforcement from San Diego House Music.com
J Lab headphones were also onsite showing off their latest line of in-ear headphones, their rep Jordanna gave me a pair of the J2 Jbuds. Check them out on their website jlabaudio.com
These events are always a great time, and always free for readers of Pacific Magazine. Check out their website for contest and fun events in San diego!
My neighbor Cassidy was going to have a 70's themed birthday party at her house and I offered to bring the music and the lighting. It was a small gathering of friends, we grooved out to Pandora in our costumes while sipping cocktails.
Recently Pacific San Diego Magazine hosted at Cheers of Charity event at BoConcept in little italy. SanDiegoHouseMusic.com provided the music with DJ Tchort and DJ Misha. Check out a few photos below and see the full gallery here.
If your looking to hire a unique DJ in the San Diego area, please contact me, I would love to hear the details of your party or event.
– DJ Misha
Last Sunday I played a DJ set at Analog Bar using only vinyl records.
It's been interesting to watch DJ technology change right in front of our eyes in the last 5 years. These days most DJ's are using a combination of software or digital equipment for their performances.
Playing all vinyl sets is just as much fun as I remember them to be few years ago!
Speaking of fun and Analog…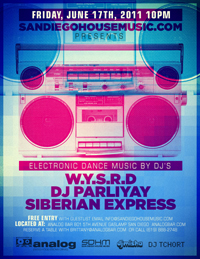 SanDiegoHouseMusic at Analog Bar
Friday, June 17th 10pm
I am very excited for the upcoming SanDiegoHouseMusic EDM event happening on Friday, June 17th at Analog Bar.
I will be DJ'ing as the artist duo "Siberian Express" with good friend DJ Tchort. The rest of the line up is rockin', including talented locals W.Y.S.R.D. and DJ Parliyay!!!
This is one event you definitely don't want to miss!

RSVP for here for Free Guestlist

SanDiegoHouseMusic.com
AnalogBar.com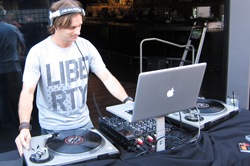 Eden – Happy Hour
Tonight, Thursday June 9th and tomorrow Friday, June 10th
I'll be DJ'ing at Eden for Happy Hour from 5-8 p.m.
Come down to have a few drinks and listen to good house music in Hillcrest!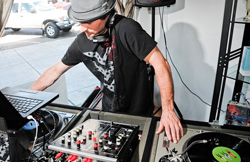 Summer is approaching fast…
It's a time for fun in the sun, celebrating good times and jamming to house music.
Thinking of having a party?
I've recently made upgrades to my mobile DJ equipment and now have the ability to take the dance party anywhere!
If you're planning a party or event, contact me, because I would love to provide the music.
On the horizon…
Searsucker – San Diego Gaslamp District
It's extraordinary to see that with great vision, dedicated hard work and a bit of luck, a great thing can happen.  Searsucker, is not only an amazing restaurant, but is also growing in popularity as a new downtown night spot.
I love that Searsucker embraces house music and allows it to create the perfect atmosphere and mood for an elegant nightlife experience.
Next: Friday, May 29th
DJ Misha with Jason Whitmore on Live Saxophone
JasonWhitmore.com
Searsucker.com
[pic caption]: Jason Whitmore playing live saxophone at Searsucker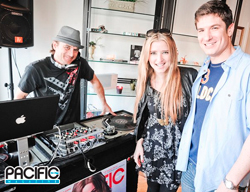 Pacific San Diego Magazine
Last month I played at a Pacific Magazine wine tasting event at the Envy Nightclub in the Ivy Hotel. The event was a huge success and the publishers, David and Simone Perfloff, have since asked me to be the resident DJ for Pacific Magazine's promotional events.
Stay tuned for more cool happenings around San Diego. Be sure to "Like" Pacific Magazine on Facebook and join the email newsletter on their website to learn about future events.

PacificSanDiego.com
PacificSD Facebook Page
[pic caption]: with David and Simone Perloff at a Pacific Magazine event
Analog Bar – San Diego Nightclub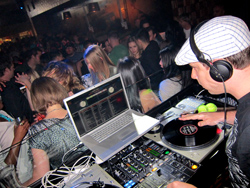 Last weekend I worked at Analog Bar with SanDieogHouseMusic.com and was really impressed with this venue.  It's a great place for a DJ, since special attention was given to both the DJ booth and the sound system.  It's also a fantastic place for getting down on the dance floor with a big room sound and sweet lighting.  I look forward to working more at Analog Bar in the upcoming months.
Next: Sunday, June 5th 3-6pm
DJ Misha -ALL VINYL SET for ANALOG SUNDAYS
AnalogBar.com
SanDiegoHouseMusic.com
[pic caption]: DJ MC rocking the house at SanDiegoHouseMusic.com Launch Party
Eden – Hillcrest Nightclub
If you want to blow off your work week, I'll be DJing at Eden this coming Friday, April 29, from 5-8 p.m.
Come down, enjoy some Happy Hour drinks and get your weekend started off right!
I'll be DJing at Eden regularly, so keep checking back for future date on the events page.
Contact San Diego DJ about your event or party and get a fast reply 🙂