Last Sunday I played a DJ set at Analog Bar using only vinyl records.
It's been interesting to watch DJ technology change right in front of our eyes in the last 5 years. These days most DJ's are using a combination of software or digital equipment for their performances.
Playing all vinyl sets is just as much fun as I remember them to be few years ago!
Speaking of fun and Analog…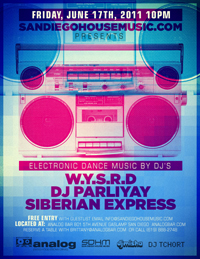 SanDiegoHouseMusic at Analog Bar
Friday, June 17th 10pm
I am very excited for the upcoming SanDiegoHouseMusic EDM event happening on Friday, June 17th at Analog Bar.
I will be DJ'ing as the artist duo "Siberian Express" with good friend DJ Tchort. The rest of the line up is rockin', including talented locals W.Y.S.R.D. and DJ Parliyay!!!
This is one event you definitely don't want to miss!

RSVP for here for Free Guestlist

SanDiegoHouseMusic.com
AnalogBar.com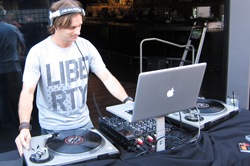 Eden – Happy Hour
Tonight, Thursday June 9th and tomorrow Friday, June 10th
I'll be DJ'ing at Eden for Happy Hour from 5-8 p.m.
Come down to have a few drinks and listen to good house music in Hillcrest!