It was fun to be invited back to DJ the 2017 Uncorked Wine Festival in San Diego. With 3500 people in attendance and almost 100 different varieties of wine to taste we had a recipe for a great event.
John Roy Sound Contractor provided the stage and the sound equipment including speakers, amps, monitors and microphones. Their on site sound tech was professional and kept the volume consistent throughout the event. They also provide services for turntable and speaker repair, and large sound rentals and production.
The doors to the festival opened at noon and people began to flow in to the large park and line up for wine tasting. It was only a matter of time before the crowd started dancing started in front of the stage, and eventually on the stage too.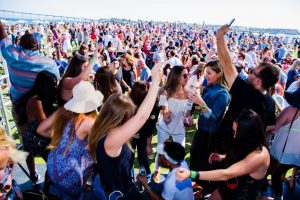 As the event DJ, I played a 4 hour set and was the only music entertainment for the event. I started my set with favorite hits from all generations, mixed seamless from track to track. Then it was time for dance hits and party rockers, it wasn't long until the crowd was dancing and jumping onto the stage. My turntable needles were bouncing up and down so wildly that it was very difficult to mix in the next song. Very fun crowd year after year!
To check out my set track list and see what was played at Uncorked head over to Serato DJ Playlists and take a look.
Below are a few photos from Uncorked Wine Fest 2017
Do you need a DJ for a party or event in San Diego?
Contact Misha, DJ in San Diego about your event on the contact page. Please be sure to provide a few details about occasion, time, date, location and approximate people in attendance.